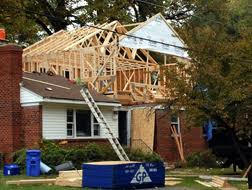 Commercial Construction Projects
We have completed commercial construction jobs such as:
Clinton, Arkansas; Renovated the Movie Gallery
Togo Mo Joes Fairfield Bay, Arkansas;
Renovated Janssen's On The Bay Edgemont, Arkansas;
Built new bar area at Janssen's Restaurant (Lakefront)
Renovated and updated the Bay View Club, Indian Hill Country Club, miniature golf club building, and most recently Golf Pro Shop
No Job Is Too Big Or Too Small
We have completed thousands of construction and remodeling jobs in Arkansas, both residential and commercial. Though no two construction jobs or customers are exactly the same, we thrive to ensure that all our customers are completely satisfied.

Located in Greers Ferry, we serve all of Arkansas. We encourage you before entrusting us with your construction, home building or remodeling project, either large or small, to give us a call. We will be more than glad to provide you with a list of satisfied customers and successful construction projects.

We have built several custom homes in the greater Greers Ferry lake area of Arkansas, as well as hundreds of decks, garages, remodels, additions,  etc. throughout the state of Arkansas. No job is too large or small.

Contact us for any questions or if you would like more information about our construction services.